Young Hearts Of Europe-7-in single: Produced by Chris Garland / Colin Thurston. Mixed by Pete Watermann
Young Hearts Of Europe Valhala-Mega-Mix: Mixed by Chris Garland
Young Hearts Of Europe-Essential Mega-Mix: Mixed by Pete Watermann
Kiss Of Death Punishment-Mega-Mix: Produced/mixed: Chris Garland
Young Hearts Of Europe-German: Produced by Chris Garland / Colin Thurston
Hold Back The Tears-Final Utopia Mix: Produced/mixed: Chris Garland
All vocals: Heidi Von Düsseldorf (Ilona Bolz-Garland) / Adolf Schmetterling (Chris Garland)
All songs words & music: Adolf Schmetterling (Chris Garland)
Studios: Utopia / Townhouse / Abbey Road
Label: EMI UK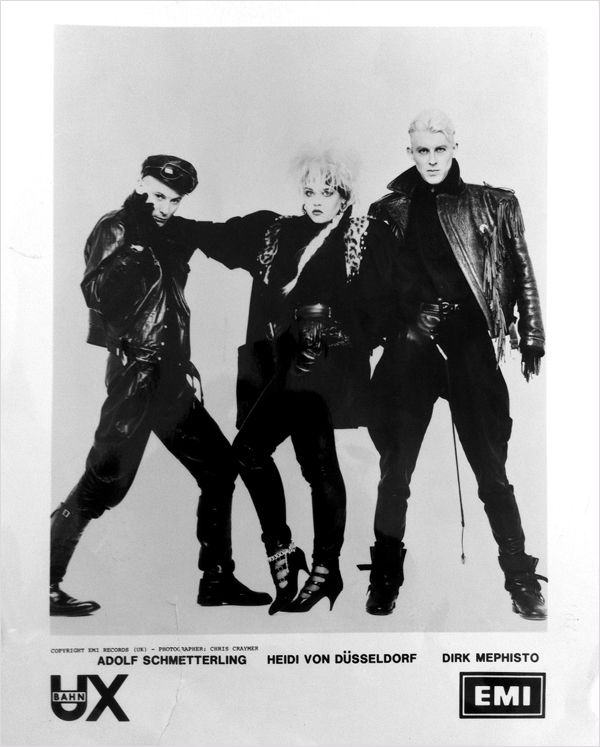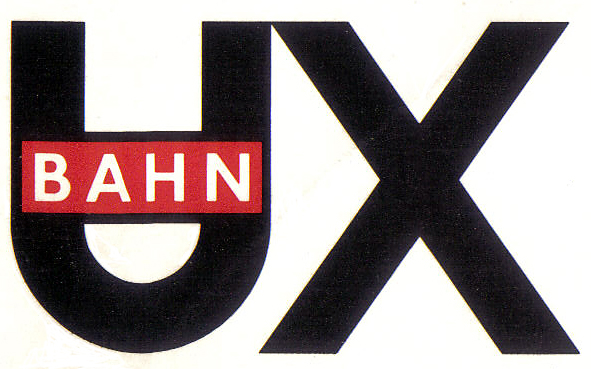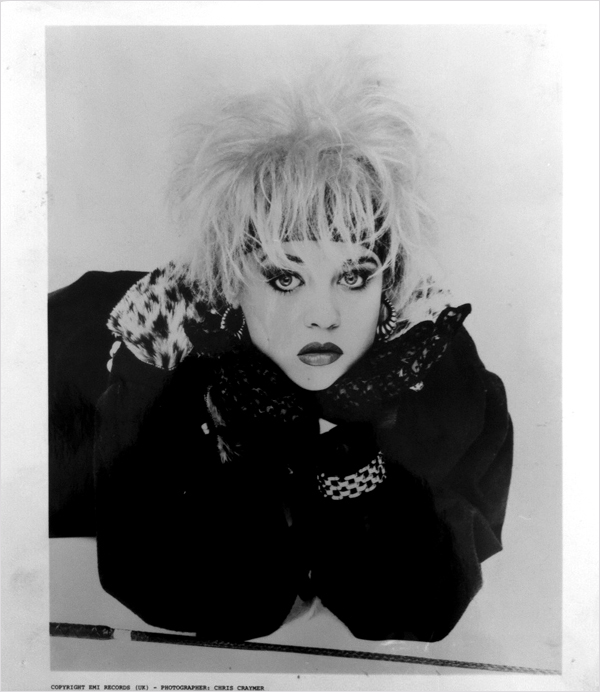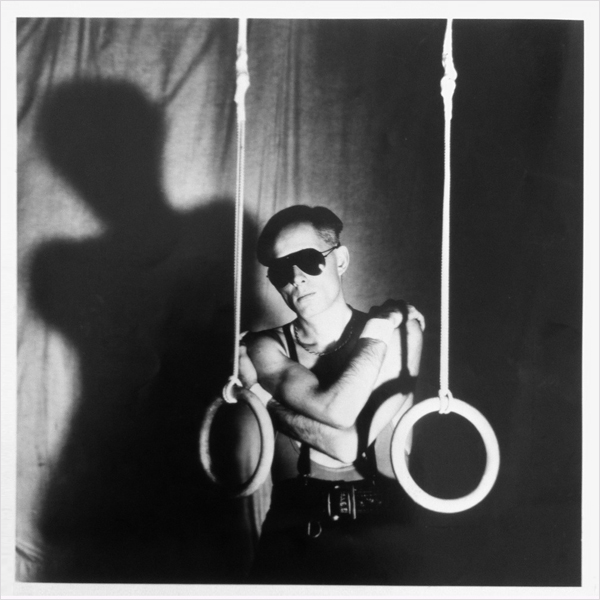 Immediately after Medium Medium split, Ilona and I flew back to GERMANY and started work on the U-BAHNX concept, the initial idea was to try and fuse the THE ELECTRO SOUND OF THE NEW YORK DANCEFLOOR WITH GERMAN INDUSTRIAL EBM and when you listen to the 12" remixes featured here, we sometimes almost realized it. It was though an effortless glide into a publishing and record deal!-signed to ISLAND RECORDS/BLUE MOUNTAIN MUSIC for publishing and then almost straight away to EMI UK. Ilona and I were very focused on what we wanted to do, however record company politics and bad management took there toll and we eventually wanted out! We were signed by DAVE AMBROSE, then A&R Head at EMI UK, Dave was an interesting man and had in the past played bass with a lot of great sixties bands including BRIAN AUGERS TRINITY WITH JULIE DRISCOL. About the same time as us THE PET SHOP BOYS, signed to EMI (also signed by Dave Ambrose) Ilona and I loved The Pet Shop Boys, and NEIL TENNANT & CHRIS LOWE were highly intelligent very likeable and extremely amusing, they were also consumate 'game players' and Neil having been a journalist at SMASH HITS, new exactly how to 'play' EMI record label 'politics' to the PSB advantage. It was during this period that THE PET SHOP BOYS released WEST END GIRLS, an absolutely stunning brilliant track and still one of my all-time favorite songs even today.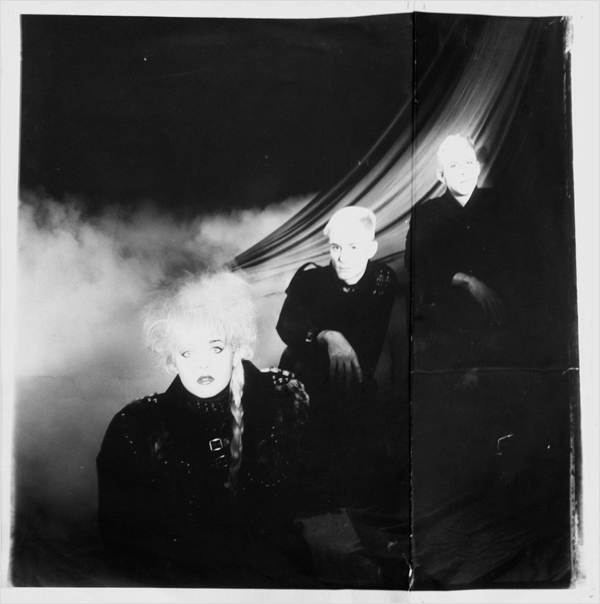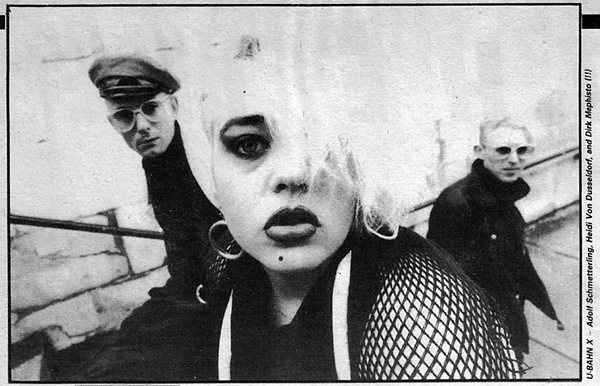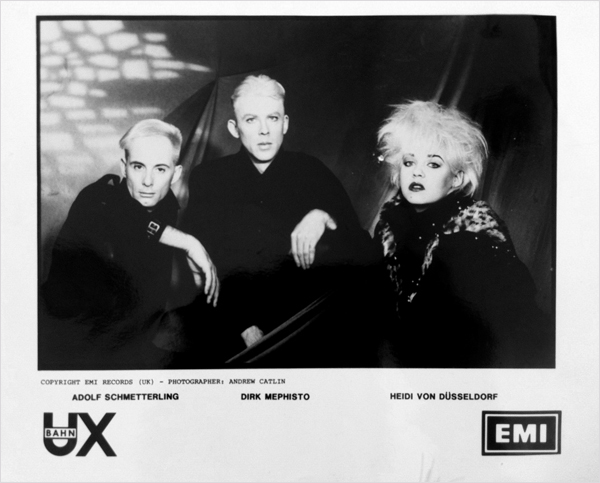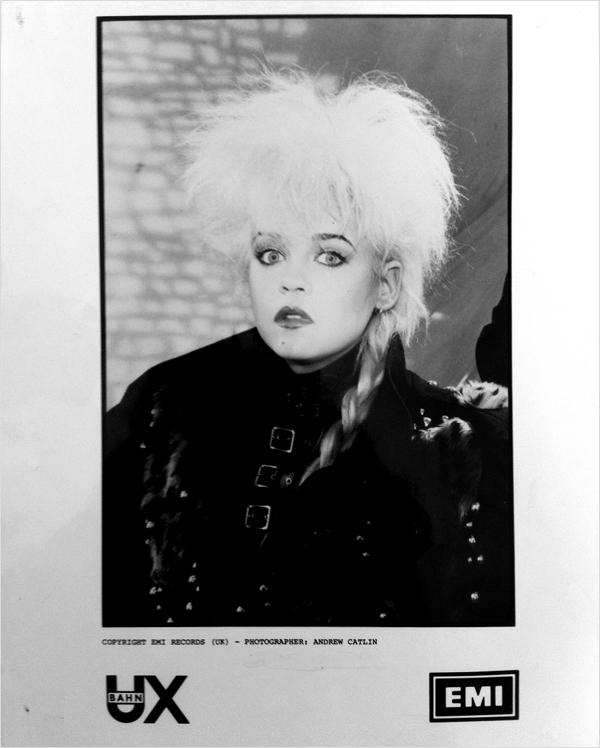 Ilona and I also loved TALK TALK, also with EMI at this time, unbeknown to us though the 'politics' between them, particularly the wonderfully gifted MARK HOLLIS and EMI, were as bad as ours were later to become. I was also lucky enough to meet the wonderful KATE BUSH on a number of occasions during the EMI days, Kate was also with the label at that time and may indeed still be! In my memory she was totally charming and friendly but (as they say today) completely 'away with the fairies'.

During our existence as U-BahnX we did though get an enormous amount of press and of course had to live with the image we had created for ourselves, which we did not take entirely seriously. Ilona being 'HEIDI VON DÜSSELDORF' and me being 'ADOLF SCHMETTERLING'!!! also featured were 'DIRK MEPHISTO' (Dick O Dell) JOHN THE BOPTIST (JOHN WADDINGTON from THE POP GROUP who had joined us on guitar. It is always important to remember that POP FANS tend to take things very literally, therefore when creating a name and an image for oneself it is important that one is prepared to live with the consequences, fame being as it were, a 'double edged sword'!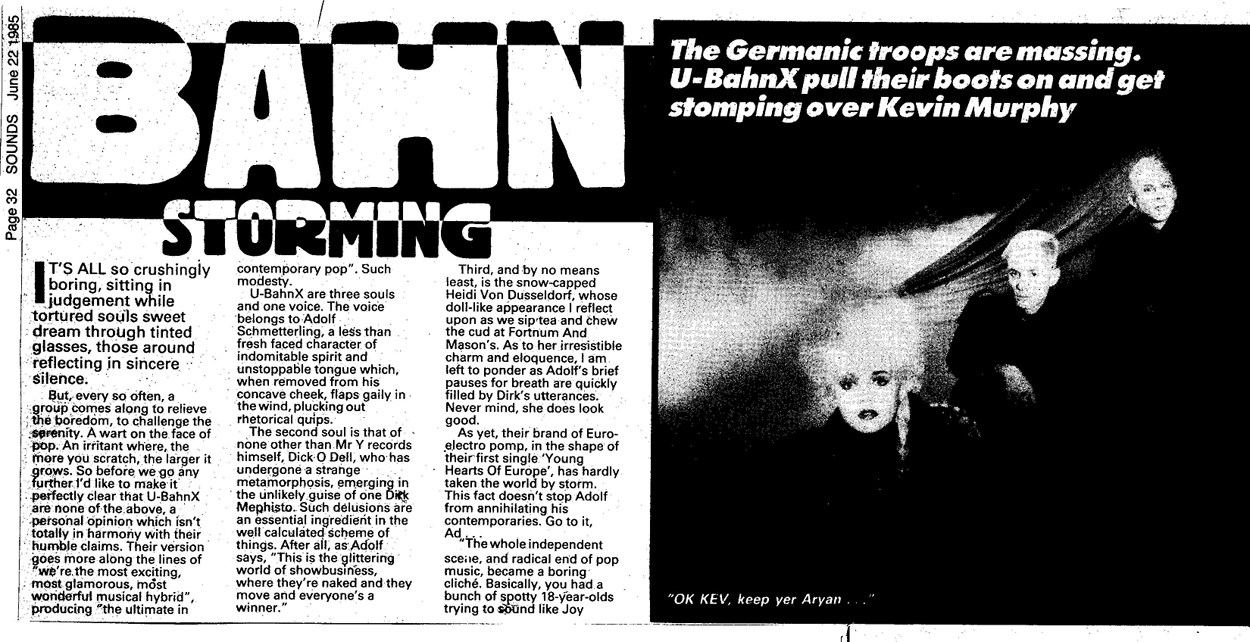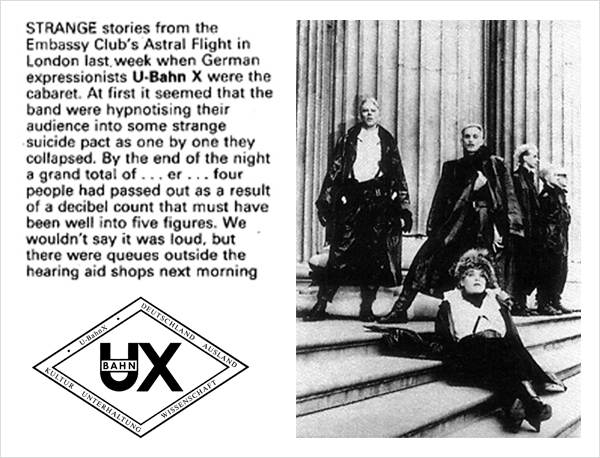 The 'YOUNG HEARTS OF EUROPE' featured here is the PETE WATERMAN REMIX. This was well before 'WATERMAN STOCK & AIKTKIN' 'cheesy-ness'! and Pete in fact was an incredibly nice bloke who really knew his music, and had just had a huge hit with PETE BURNS, DEAD OR ALIVE –'YOU SPIN ME ROUND'! Unfortunately the original 'Young Hearts' production was by the late COLIN THURSTON, Colin had produced a whole string of massive DURAN DURAN hits for EMI and therefore EMI insisted we have him as producer, after turning down all the more 'happening' 'arty' people we suggested. Colin knew what he was doing with Duran who were a mainstream guitar based pop band, but did not understand any of our 'over arty' reference points at all. However the production was/is very professional but fails to capture the more 'WAGNERIAN' feel of what we wanted to do. Ilona's vocals though are wonderful and the strength and irony of the song shines through.

Another problem was the lineup, U-BAHNX was conceived as a vehicle for Ilona & I, however, Dick O Dell, whom I knew from the POP GROUP, SLITS and Y RECORDS days, desperately wanted to work with us and I felt he would make a good manager, as I did not want to be both 'artist & manager'. The problem was Dick liked the concept so much that he wanted to be in the band, and foolishly we agreed. Eventually DAVE AMBROSE at EMI who had signed us, took Ilona and I out to lunch and asked us to get rid of Dick, saying that in his view his being in the band was against the best interests of the group, and that he also did not wish to work with Dick as Manager. Dave made us a very good offer indeed, he would make us a 'priority act' Ilona would come forward as the only singer and Alan who had joined us from the defunct Medium Medium, and I would be on keyboards and Steve Harvey also ex MM on drums. It was a very good offer backed by the the then EMI MD David Munns, however out of misplaced loyalty to Dick, whom we saw as a close and trusted friend and with whom we then shared a flat, we turned it down. This was a costly mistake as, Dick turned out to be a bit of a rotter to be honest, and certainly proved no to have our best interests at heart! In his defense Y Records had just gone bankrupt and he was under pressure from both artists and creditors. Dick now manages 'BATS FOR LASHES' with some success.

The musical legacy of U-BHANX continues with much interest on the internet and cult status in Japan and many parts of the world. The tracks featured here show the band a it's full 'Teutonic power' and famous as much for our 'look' as our music we apparently still influence fashion retro head's everywhere. We were asked a few years ago to reform for a tour of Japan, but although this was most flattering and the offer very lucrative, I did not feel we could be what we no longer were! Obviously we were fairly controversial and indeed shamelessly played up to it, as press releases featured here show, with headlines like 'ANGLO-GERMAN WAGNERIAN SEX BEAT COMBO U-BAHNX' ETC ETC'. Ilona & I approached POP CULTURE more as 'PERFORMANCE ART' and this is certainly how we saw U-BahnX. However it was a magical time, and listening to these tracks again after so many years, they sound quite amazing, they are also apparently out on numerous compilations and continue to be released and played everwhere. U-BahnX was very much of it's time, and this sort of 'performance arty-ness' sadly no longer exists in pop today.