The TRASH GROOVE GIRLS were conceived as a full frontal 'POP ART TERRORIST' ATTACK ON THE GERMAN MUSIC INDUSTRY. The ultimate in PERFORMANCE ART POP PRANKSTERISM. The TGGs were an unstoppable 'CYBER PUNK' LIVING AUDIO-VISUAL INSTALATION, that came out of nowhere created absolute havoc and controversy and generated the most enormous amount of press coverage. They were literally never out of the press! Featured naked wrapped only in a German flag full page in German high circulation magazines, the girls were a journalist's dream and an interviewer's nightmare.
It all began one night in a studio in Düsseldorf sometime in 1986. Ilona (HEIDI VON DÜSSELDORF) and I had just extricated ourselves from the ashes of U-BAHNX and had returned home to Düsseldorf. Ilona had no desire to get immediately involved in a new band, so I had been producing and helping out some young bands in Düsseldorf develop their ideas. One night just as a session had ended, I was sat around talking with a guy called OSCAR 'GERT' KINZEL, who later became a very close friend and musical collaborator. Gert asked me if I had any plans to form a new band, I said no, but I had a few ideas I was kicking around, he asked me what these were, and I said 'well, if I could find three girls with the right attitude I would like to create a "POP ART TERRORIST-CYBER PUNK ALL GIRL BAND"'.

The next night Gert arrived in the studio with a girl called 'KATINKA' she was around 19, typical, arty educated middle class Düsseldorf girl, friendly, pretty and open minded. She also like Ilona was from an 'East Prussian' background, meaning that her family roots were in the east, but after the war Prussia no longer existed as a country, and a lot of the surviving 'East Prussians' like Ilona's father Waldermar, had settled in the Düsseldorf area. The interesting thing about the 'East Prussians' is that they were very different in character and even appearance from the 'Rheinlanders', who lived in their area. The Prussians were somehow much more open minded, courages spontaneous and cool than the Rheinlanders, which of course made them better pop stars! I explained to KATINKA what I had in mind, she was very enthusiastic and wanted to do it, she said she had a friend called ANDREA, who she would bring along the next night. The next night came around and KATINKA turned up with her friend ANDREA who was also about 19, stunningly attractive and as well as being from a similar middle class Düsseldorf background, was also from an 'East Prussian' Family. Both of them were perfect, and both very enthusiastic. That left one more girl to find, out of the blue GERT produced yet another perfect girl called SIMONE, small, pretty friendly and talkative and amazingly also from an 'East Prussian' background. Simone was from a more working class background and very outspoken and amusing and the combination of the three girls was quite magical.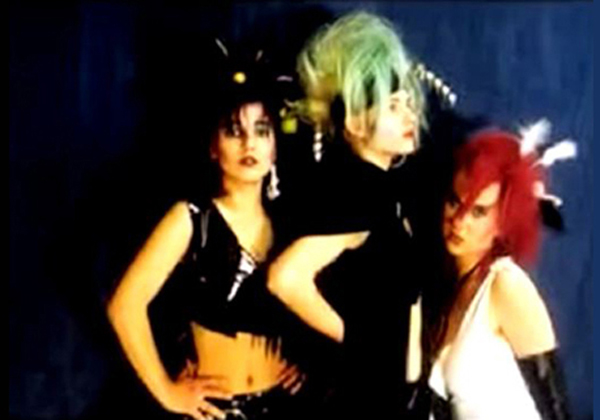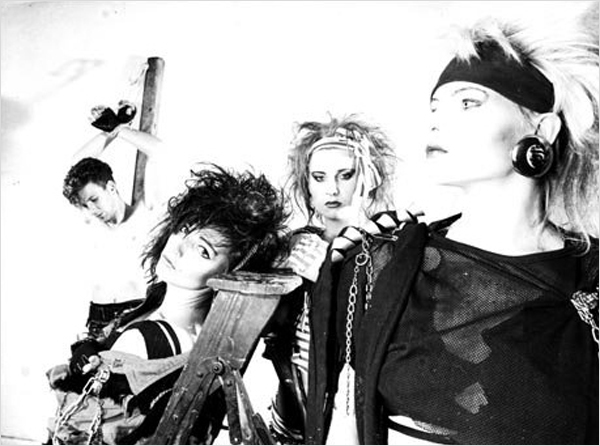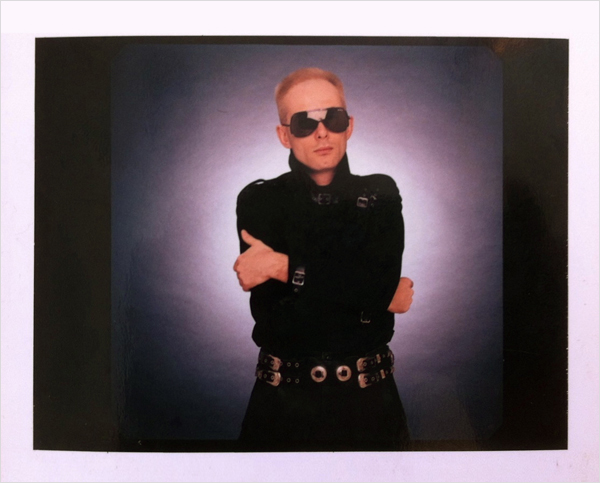 They had minimal musical competence, which was exactly what I wanted, but had great 'attitude' and Katinka & Andrea were really great singers and could sing in harmony together. The girls were also incredibly and irresistibly sexy and knew it!

The band was developed in the studio together with the image, look and style. I had a complete picture in my head of how the TGGs should look and sound, but the girls were very bright, very creative and learnt fast! Pretty soon we had a demo tape of around six really good songs which I had written for them, had done a great photo shoot and had an very good video, the video is sadly no longer in my possession, so anybody out there who has one please get in touch.

Now at this time in Düsseldorf, there was a CAFÉ ON THE HARBOUR (HAFEN) called 'OP DIE ECK'. If you go to Düsseldorf these days you will find the old harbor area has been torn down, and replaced by a very modern complex of buildings and offices, including a rather splendid building designed by my favorite architect FRANK GEHRY. The old 'Op Die Eck' though sadly no longer exists, but at the time this very small unassuming café in the harbor area, was the #1 place to hang out for the Düsseldorf 'Arty Set'– musicians artists designers writers etc., with which at the time Ilona and I were connected. (I was 'connected' as the 'honorary eccentric Englander') for it was 'very German' and 'very Düsseldorf' and as far as I know I was the only Englishman who ever went there! However, one particular Friday night in 'Op Die Eck' Ilona and I had taken the TRASH GROOVE GIRLS there to 'frighten the natives', it was a typical Friday/Weekend night in the café. As usual there would be people like JOSEPH BEUYS, RALF & FLORIAN and the rest of KRAFTWERK, ROBERT GŐRL & GABBI DELGADO from DAF, JURGEN ENGLER from KRUPPS and various other Düsseldorf 'art-pop' notables and journalists. One of these was a guy called DIEDRICH DIEDRICHSEN who was the main writer for a COLOGNE based POST PUNK magazine called SPEX which at the time was the best and certainly the coolest magazine in Germany. Diedrich and I fell into conversation, about the TGGs he loved their look and completely understood what it was all about. He said he wanted to do piece on them in SPEX so I gave him a demo tape,the following day he called me, said he loved the tape and suggested I should talk to ALFRED HILSBERG at WHATS SO FUNNY ABOUT Records in Hamburg, he said he had already spoken to Alfred and so after a very enthusiastic Hilsberg had heard the tape, we signed very quickly to his label, and two weeks later were in the studio recording the first album 'ARBEIT SPORT & SPIEL', which I wrote and produced and was engineered by a brilliant engineer/producer called PETER KRICK, who had just opened a new studio in Düsseldorf called RHEINKLANG with his partner BODO STEIGER who had previously had a huge NEU DEUTSCHE WELLE hit called DREIKLANGSDIMENSIONEN with his German group RHEINGOLD.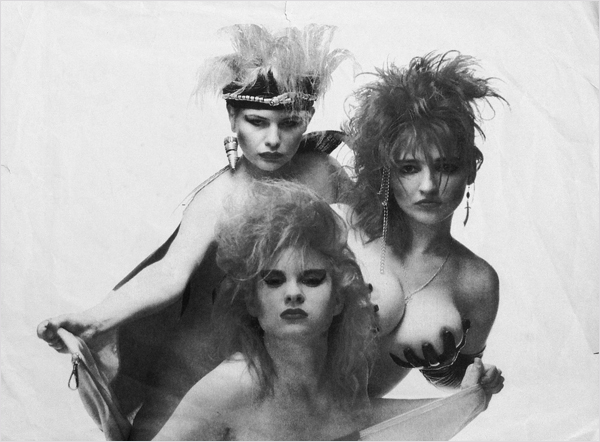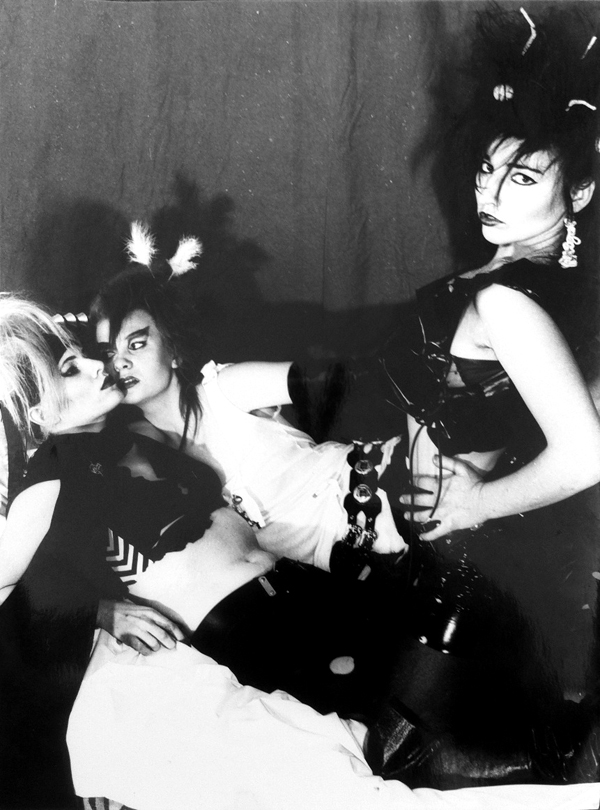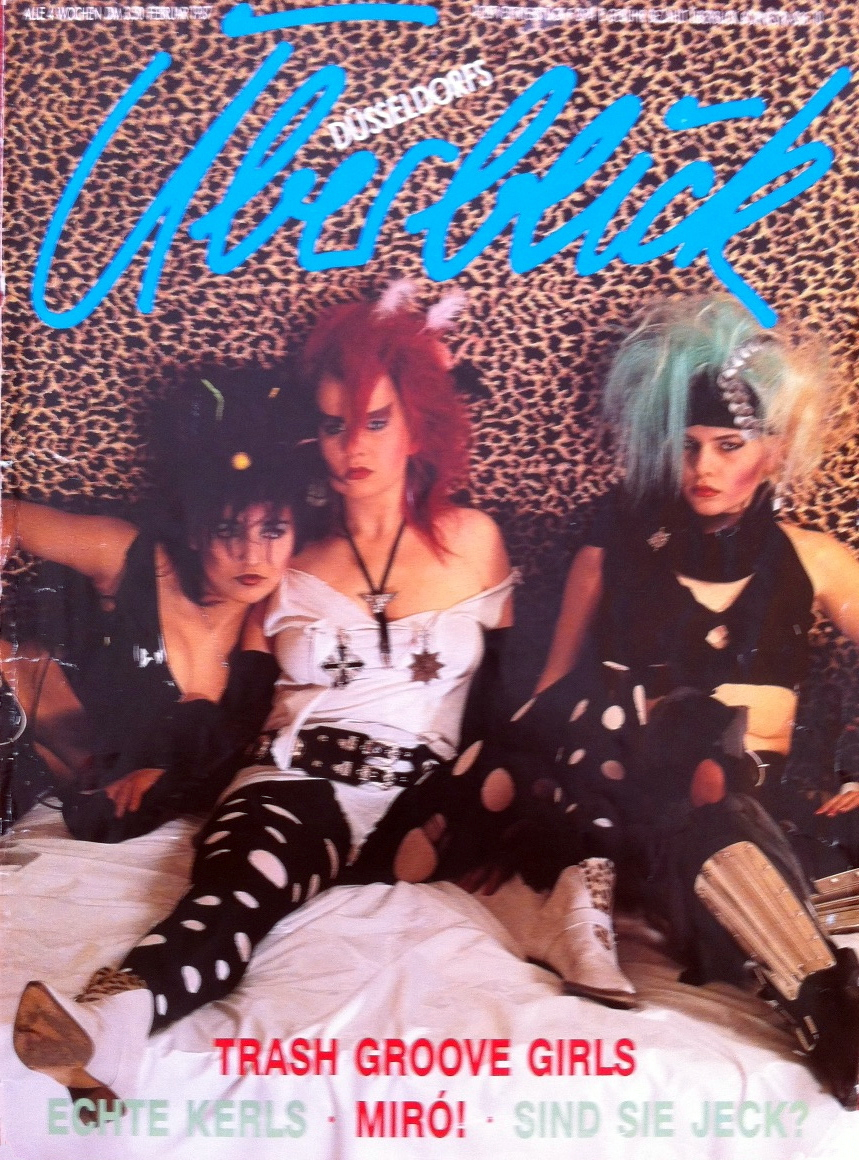 About this time MARC CHUNG the bassist and 'guiding business head' of EINSTURZENDE NEUBAUTEN had started a new style of publishing company called 'FREIBANK' which unlike most publishers offered a fair deal to the artist. We signed with MARC and ALFRED HILSBERG at WSFA, MARCH CHUNG, ALFRED & myself became co-conspirators in developing and exploiting THE TRASH GROOVE GIRLS amazing potential for getting noticed talked about and creating controversy. We also had invaluable help from JOHANESS WESSELS and his partner ACHIM, who handled all the booking strategy for the TGGs.

The first album was released and received massive amounts of press, it polarized the critics who either loved it or hated it, however the album was album and single of the week in SOUNDS, MELODY MAKER & NME in the UK. They were also featured in a full page photo shoot for VOGUE MAGAZINE and we were also offered a lot of money to do a center fold for PLAYBOY MAGAZINE, I turned this down, which some people at the time did not understand, however, for me there was and indeed is a very clear line between powerful sexuality and cheap sexist objectification, and whereas VOGUE totally got the irony of the TGGs' appearing in their magazine, PLAYBOY did not get the irony of the TGGs at all. We then launched into our first German tour which was equally sensational with sold out dates everywhere. I started getting offers from Major Labels! Having created a monster! I made the decision prompted by my American partner to take them to the States, where he was convinced there was an American deal waiting! There was, with Warner/Electra, but for reasons of personal politics not involving either myself or the band, they eventually past on the TGGs! In retrospect, I should have followed my instinct, and concentrated on the Europe and the UK, where we had a strong vibe and fan base.

After the American Tour something had changed, there was no longer the same feeling of togetherness in the band. In retrospect, too much to fast too soon, had happened, and the girls had never experienced anything like this before, particularly the USA, it unfortunately and understandably went to their heads! Andrea left the band, which was a disaster, Gert's girlfriend Babsi came in, she was a lovely girl, but the magic was no longer there, I did one more album for them, but it's the first album that is the 'masterpiece' it's the sound of an 'UNSTOPPABLE TEUTONIC TECHNO/ROCK INDUSTRIAL SEX MACHINE'! and even today has all the energy and power that it had then.

The Trash Groove Girls were a truly great band and KATINKA, ANDREA & SIMONE the perfect combination, as was Gert Kinzel, who deserves more credit than I perhaps gave him at the time.