Vocals: Chris Garland
Guitar: Michael Sonnen
Electronoise: Brit Leissler
Words: Chris Garland
Music: Chris Garland / Michael Sonnen
Produced by Chris Garland.
Engineered by Michael Sonnen.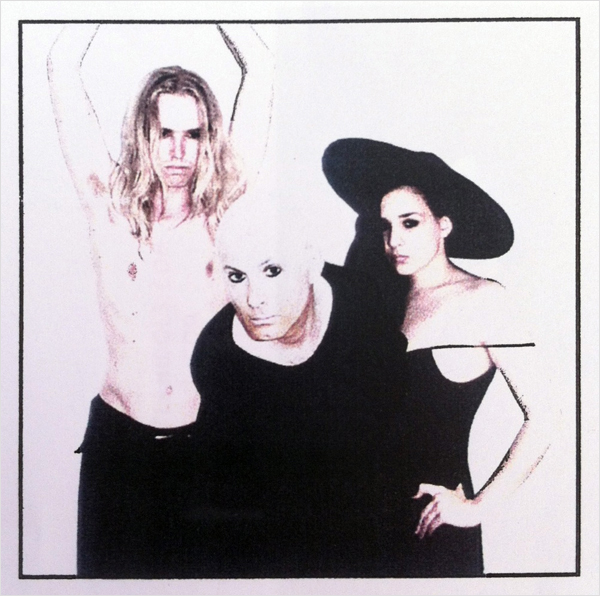 This is stunning stuff! Listening to this after some years, is an almost mind blowing experience, produced by Michael & myself, and featuring Brit, Michael and myself as 'the band'. THE BLUE VOID took the three of us (well certainly Brit & myself) back towards our ' GOTH/ROCK/EBM ROOTS'! And this album is certainly an INSPIRED PIECE OF SONIC FUEL INJECTED PSYCHEDELIC GOTH ROCK ELECTRONICA! Fused together over many long dark nights in the studio! This is definitely us at the very peak of our CREATIVE KARMA'!The songs just seemed to flow, I wrote them at home near Düsseldorf to very basic simple backing tracks, then took them into the studio where the music just seemed to take on a power of its own when the three of us began to record. This is definitely DANCE MUSIC FOR THE MIND AND BODY, and every songs is a sonic anthem, so all album tracks are included here. I remember we toured Germany with SOFT CELL which was rather a surreal experience, MARC ALMOND & DAVE BALL are nice guys, but MARC can definitely be more than a touch 'Queenish' at times! I particularly remember in Cologne when he refused to go on stage, until the 'Shaved Chicken' that was on the SOFT CELL Ryder was brought to him! To this day I have no idea what 'shaved chicken' is, and nor I gather had/has Dave Ball.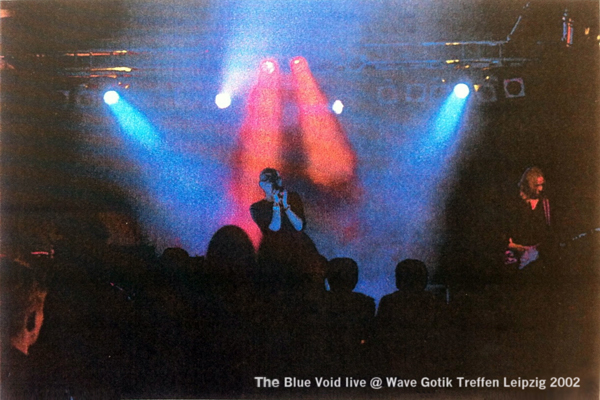 Amongst the dates I remember was the GOTIK TREFFEN in LEIPZIG, which is the biggest GOTH FESTIVAL in the world! This was a really successful show for us with a huge audience. This was I think our last show together as THE BLUE VOID and once the air had cleared, it was obvious that the three of us were going in different directions, Brit was focused totally on her design work, and her more minimal electronic music, Michael wanted his own studio, (which he eventually got) and was focusing more on corporate commercial audio work, which he was very good at. I was doing more lucrative commercial work, with big ad agencies, as well as writing film scripts, then left for the USA where I spent almost a year in total initially on a film for MINISTRY which I had promised Al I would do, then later on the POETS OF NOW ALBUM.

The Blue Void could obviously have been huge, but by the time the Major labels had started to speak to us and the big money was being talked about, the party, however much we had enjoyed it was over! The featured video is 'THE BLUE VOID' in a early incarnation, when the RAW GOTH INDUSTRIAL EBM aspect of our sonic alchemy was in full flow! Shot by TITUS VON LILIEN, it's pretty wild, but strangely I rather like it's 'RAW POWER'! After this TBV evolved into the 'ACID POP CANDY' style, and became far more 'spaced out & psychedelic'.

Important note: The original 'Blue Void' I refer to here, should not be confused in any way whatsoever, with another band now using the name and featured on the internet.